Live life at its finest in the luxurious and spacious Palazzo Villas, located in Lucknow. Our 3 side open villas feature high-end amenities surrounded by essential infrastructure, giving you easy access to city landmarks. Invest today and enjoy a plush lifestyle filled with modern luxuries and timeless elegance. Amrawati palazzo villas Amrawati palazzo villas. customised just for you, each villa combines luxurious comfort with stylish design, and lets you make the most of every day.
.
Amrawati 4 bhk villas in Sultanpur road
Unit Size - 3 BHK Palazzo villas - Plot size 1800 SQFT / Construction 3200 SQFT
Unit Size - 4 BHK Palazzo villas - Plot size 1800 SQFT / Construction 3800 SQFT
Our team at Amrawati 4 bhk villas in Sultanpur road has the know-how and experience to provide a comprehensive suite of services tailored to meet your unique needs. We specialize in providing our clients with the perfect piece of real estate, so you can turn your dreams into a reality! With our expertise and attention to detail, we guarantee that you will be able to find the property of your dreams, whatever it may be. Make your move today and unlock the potential of luxury living with us at Amrawati villas.
Palazzo villas in lucknow
Luxuriate and experience urban living at its finest with Palazzo Villas Lucknow. Step inside the world of luxury residences situated in Amrawati IT City. From top-notch amenities to well-designed spaces, you will find your home truly special with its eco-friendly surroundings. Enjoy a one-of-a-kind stay with our luxurious villas that offer serene views of the city skyline and breathtaking panoramas of nature. Let us make your home a paradise that oozes out peace and comfort along with first-class facilities that you won't find anywhere else!.
Club House
Departmental Store
Unisex Gym
Swimming Pool
Jogging Track
Indoor Games
Yoga/ Meditation Room
Aerobic Centre
Kids Play Zone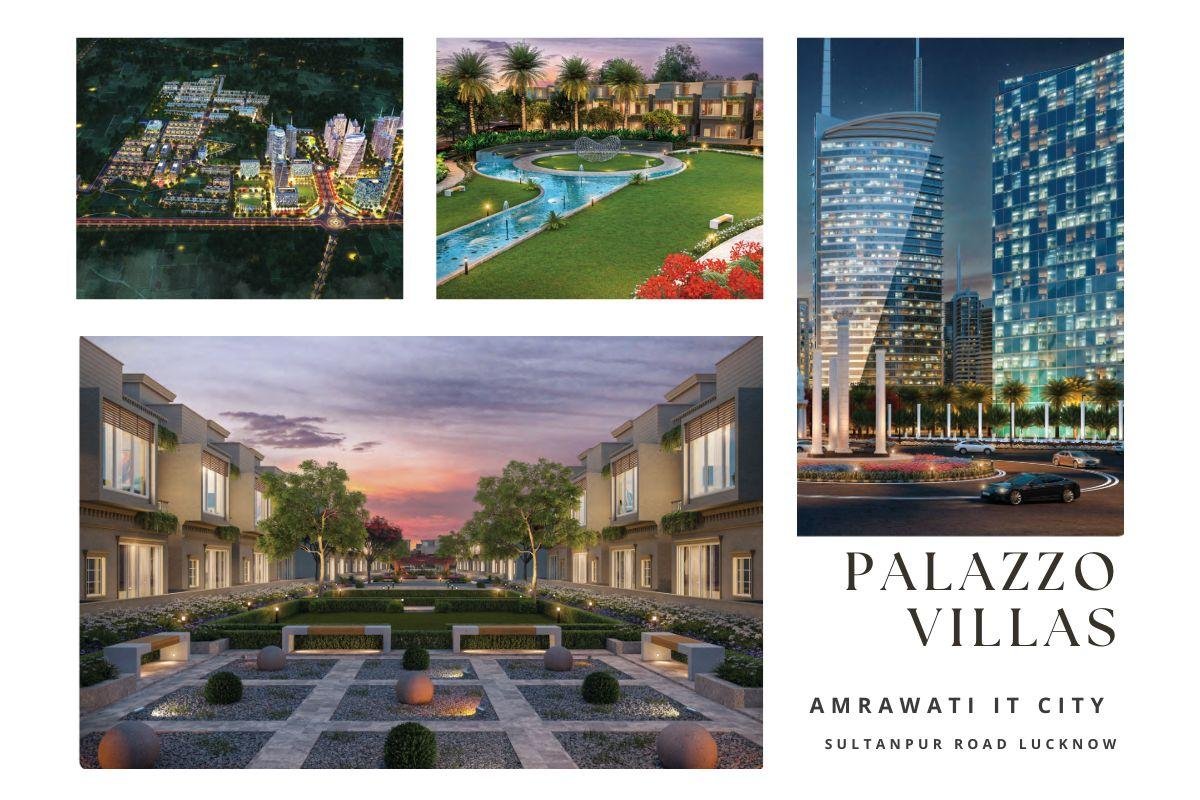 Experience the pinnacle of luxury living in our limited edition Palazzo villas in lucknow City, this exclusive selection of residences offers an unbeatable combination of essential infrastructure and access to many of the city's top landmarks. Our carefully designed villas provide a secure future for you and your family, with all the modern amenities and impeccable attention to detail. Enjoy peace of mind knowing that you have chosen your ideal dream home – one that will remain timelessly stylish and attractive for years to come. For more details kindly connect +91-7526-085-233